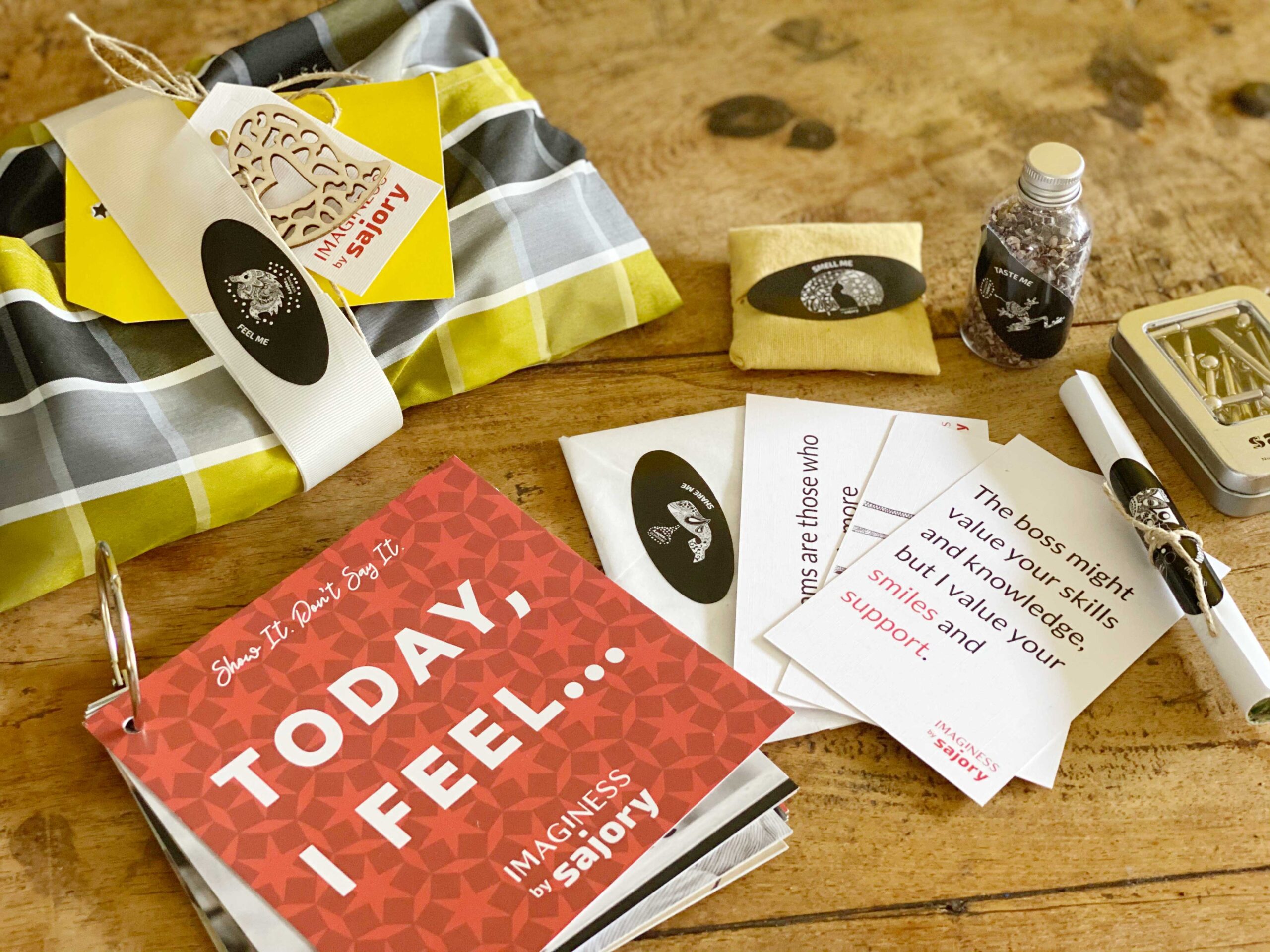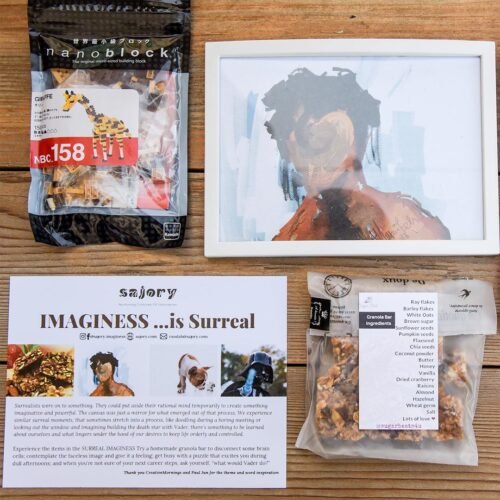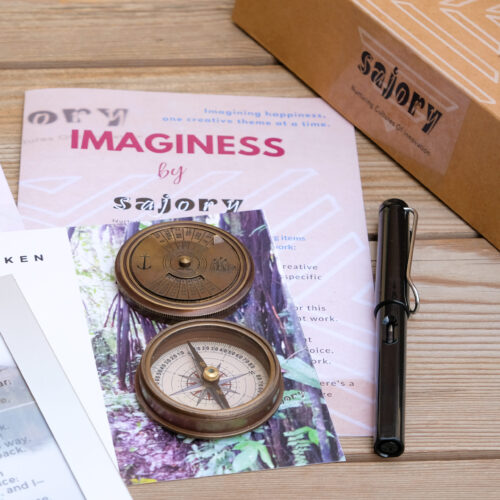 "IMAGINESS by Sajory" is designed to make your neuro-synapses go wild!"
Three times a year, you receive a curated professional facilitation session in a box for your innovation strategy planning meetings.
Each IMAGINESS box includes facilitation guides and is packed with divergent & convergent tools, office toys, and items specifically designed to fuel creativity. The unboxing of IMAGINESS is a welcoming invitation to engage the team, foster a playful and innovative mindset, and develop stronger team relations.
As everyone explores the IMAGINESS tools and props, the team transforms into a magnet for creative inspiration.  Your original ideas are a clear result of the creative process we carefully packaged. Whatever your project or industry, innovation is yours.
The IMAGINESS Box Bundles give you the freedom to embed innovation to the core of your team's culture by generating a creative strategy playbook intentionally at least 3 times a year.
This is an invitation for your team to creatively think inside the box, for a change.
Depending on which bundle you chose, the choice will help you transform your team, and the culture it lives in, to become a truly innovative experience.
Whether you're new to, or experienced in, innovation methodologies, you'll find something to help you plan and nurture a creative system at work. Each box (serving at least 4 team members) is designed to follow the basic creative process method of diverge and converge for a single challenge, opportunity, or project that requires some serious creative muscle flexing.
Based on years of experience in awakening full senses for maximum engagement, we've handpicked items for each box that build on each other. We have vigorously tested 7 categories that can offer a full sensory experience to amplify your thinking methods.
Things to

taste

: unique blend of herbs or chai, organic cookies, granola bars and other healthy options for your snack drawer

Things to

play

with: desk toys, card game for ideation meeting, puzzles, funky stationery

Things to

see

: an inspiring image, a poster for the wall, a framed quote for the desk.

Things to

learn

from: divergent and convergent tools, group decision making methods for the team, books to inspire.

Things to

give

: Thank you postcards, special items to share around the office. 

Things to

feel

: unique textures, carved items, notebooks, playdough for those stressful meetings

Things to

smell

: desk diffusers, herbs, distinctive smells uncommon in office settings (do you smell a "tree" in here?)  
The surprise element of what comes in the box is part of its successful experience.
You order the bundle once, and it arrives 3 times a year, each with different items and themes to tinker with, and on time for your next innovation strategy meeting. Choose your bundle based on the level of support your team requires. This can be anything from getting instructions to run the session on your own, to having a psychometric assessment and a debrief from a certified facilitator for your team, to progressing with additional hands-on, result-oriented guidance and group masterminds on transforming culture and facilitating creativity into work.
A simplified version of IMAGINESS curated for you to scale.
Here's your chance to order a co-branded gift bag for your VIP clients, key partners, or extraordinary employees. This gift bag prominently features your company's logo and has similar categories as the IMAGINESS bundles to excite your senses.
Something to taste: Ethically sourced

cocoa nibs

, good source of fiber, proteins, and healthy fats.  

Something to play with:

Magnetic balls and rods

, letting your hands think with you.

Something to see: The

"Today I feel"

cards helps you express your thoughts, without saying them.. 

Something to learn from:

A poem scroll

by Robert Frost to ignite your creativity and sense of adventure. 

Something to give:

Gratitude postcards

to share with special colleagues. 

Something to feel:

Handmade bags

to contain all these sensory items

Something to smell: Dried

lavender

that treats your headaches and work anxiety, instantly.   
Each bag is for DHS 200 (USD $55 / CAD $70), with a minimum of 10 bags per order. Shipping will be added separately, based on number of bags and location. Contact us today for a quotation.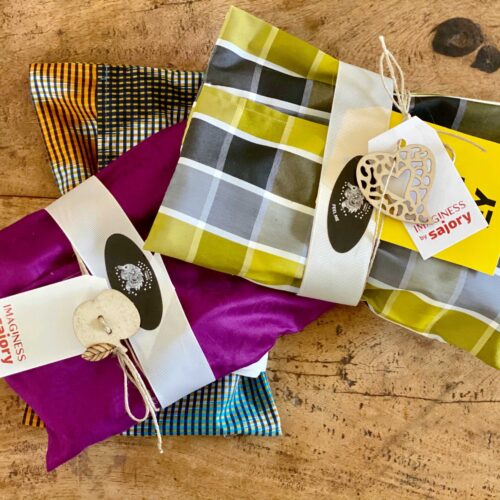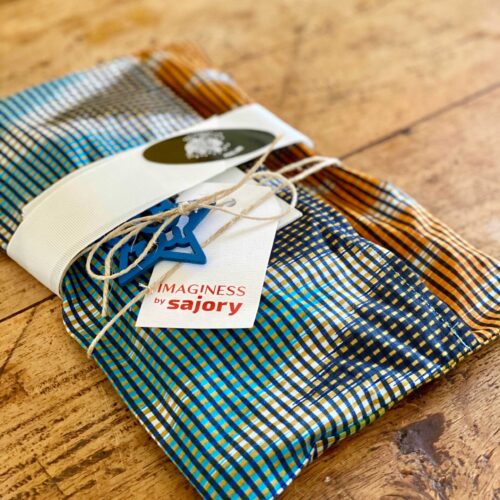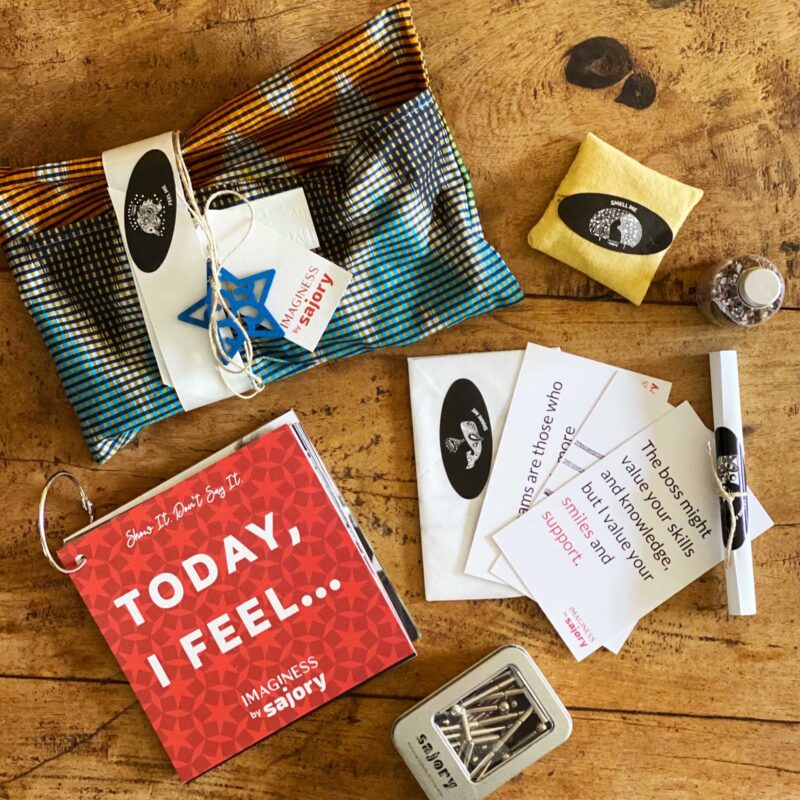 What did People say?
Feedback Is Gold
We respect your privacy and do not to tolerate spam and will never sell, rent, lease or give away your information. We are here to answer any questions you may have.